Articulate
Digital Art Therapy tools centralised at one place
ARTICULATE
Articulate aims to centralize Art Therapy tools in one place to digitize the practice. The communication and management tools on Articulate let Art Therapists collaborate with clients in real-time to be a part of their art-making process. The platform also allows Therapists to manage their practice by allowing them to schedule sessions and record client data and files.
Project Type: Individual
Role: Research, Concept, Wireframes, Visual Design, User Testing, Prototype
Duration: 15 weeks
Tools: Figma
The Process
The process for this project was defined according to the project scope, needs and challenges.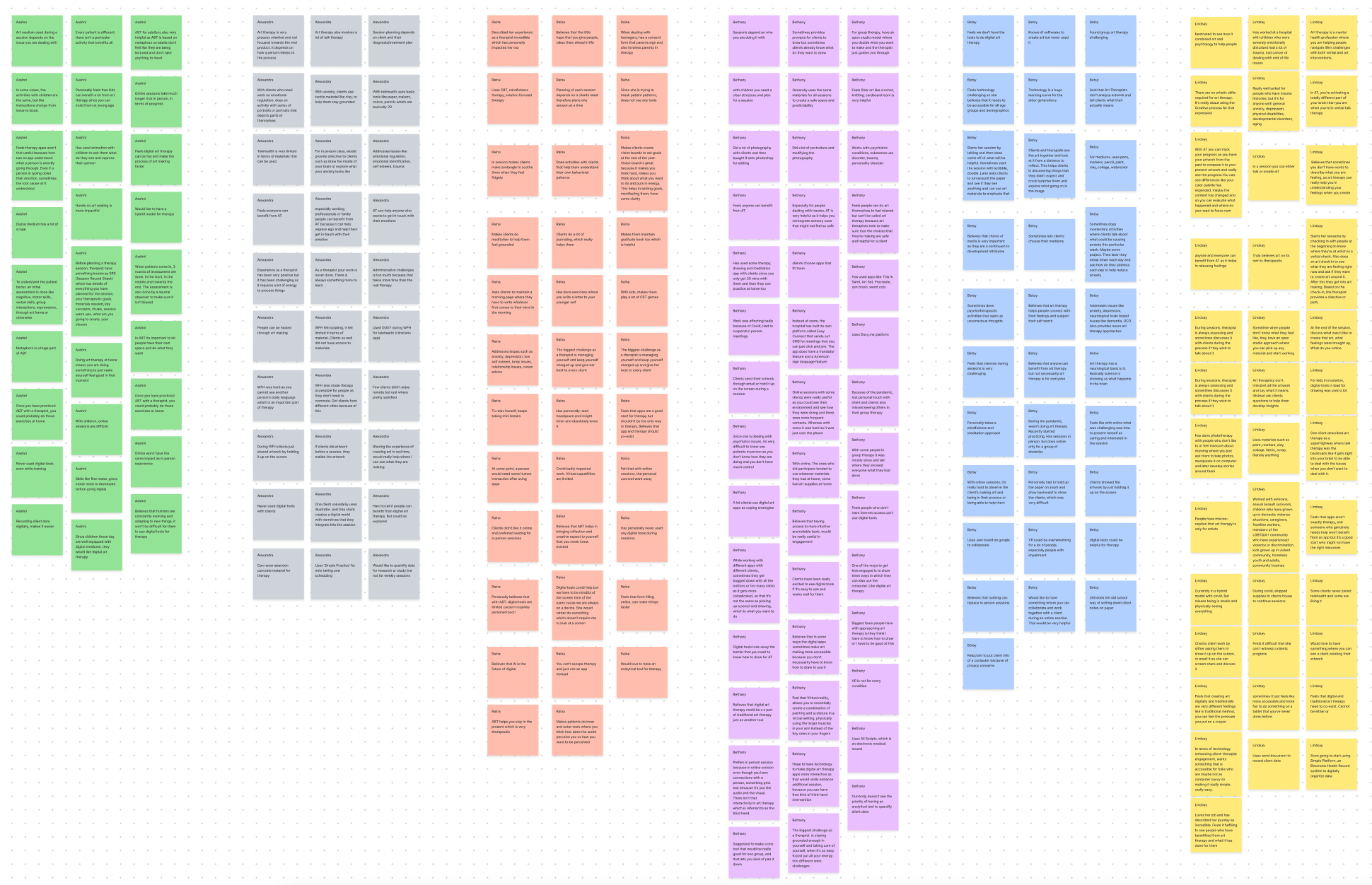 Problem
During the pandemic, Art Therapists found it extremely challenging emotionally and logistically to conduct online sessions with their clients. Therapists could not view a clients artwork during an online session which created a disconnect and made it difficult to conduct constructive sessions. At the samee time, they had to use multiple digital platforms such as google calendar, zoom, google jam board, email, and more to conduct a session which was very challenging to manage on a daily basis.
Solution
A communication and management tool for Art Therapists to collaborate with clients in real-time to be a part of their art making process. The platform also let's Therapists manage their practice by scheduling sessions, recording client data and files.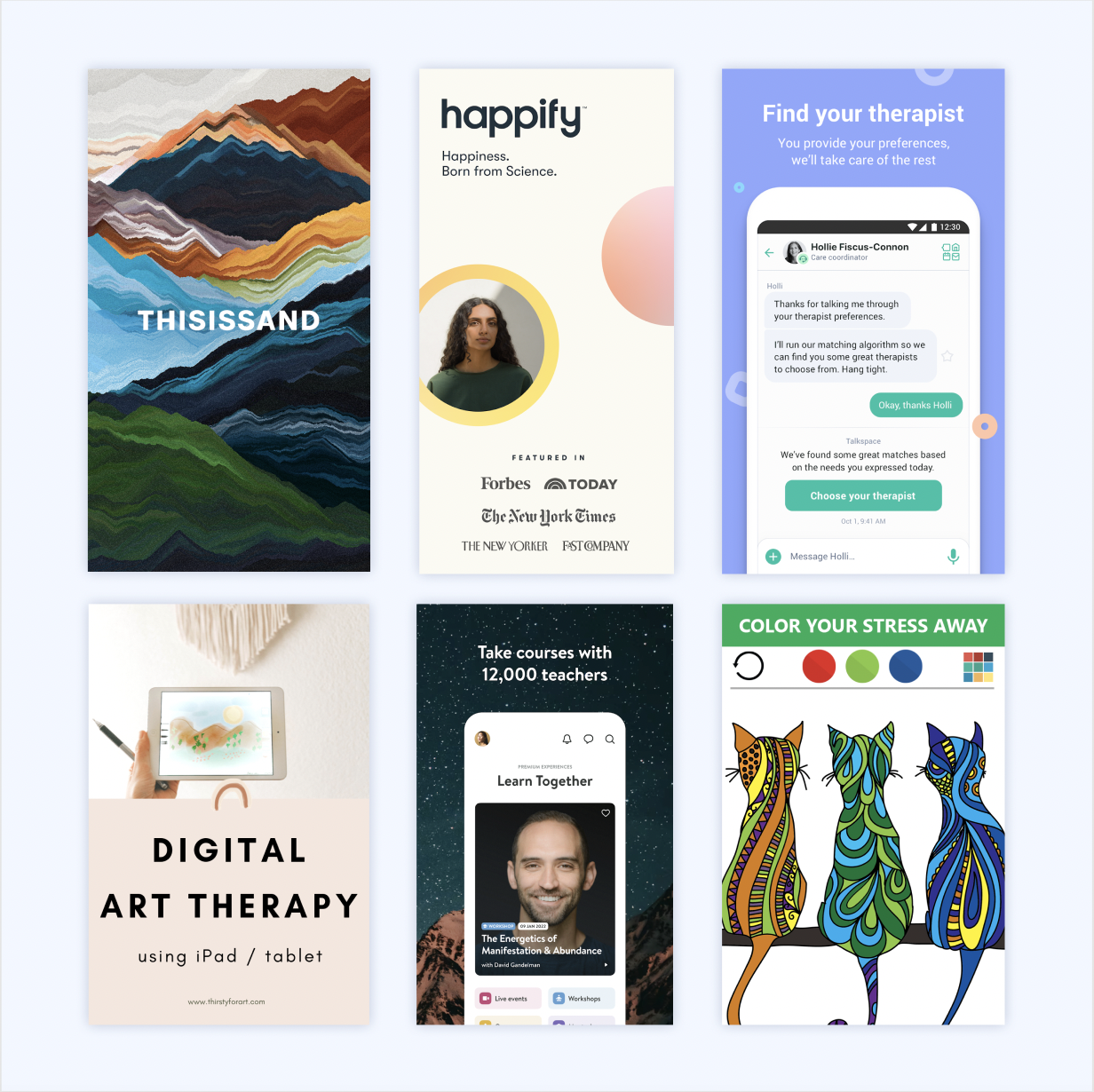 Competitive Analysis
We started our research by carrying out industry research to understand what other competitors and adjacent industries are doing, and what can we learn from it.
Here are some of our key observations:
Most of the apps position themselves as art therapy apps whereas they are just regular coloring apps

Adjacent industry apps provide users with continuous insight, feedback and progress of their well-being

None of the digital solutions cater to Art therapy practice needs

Apps don't specifically address conditions or mental issues they are trying to help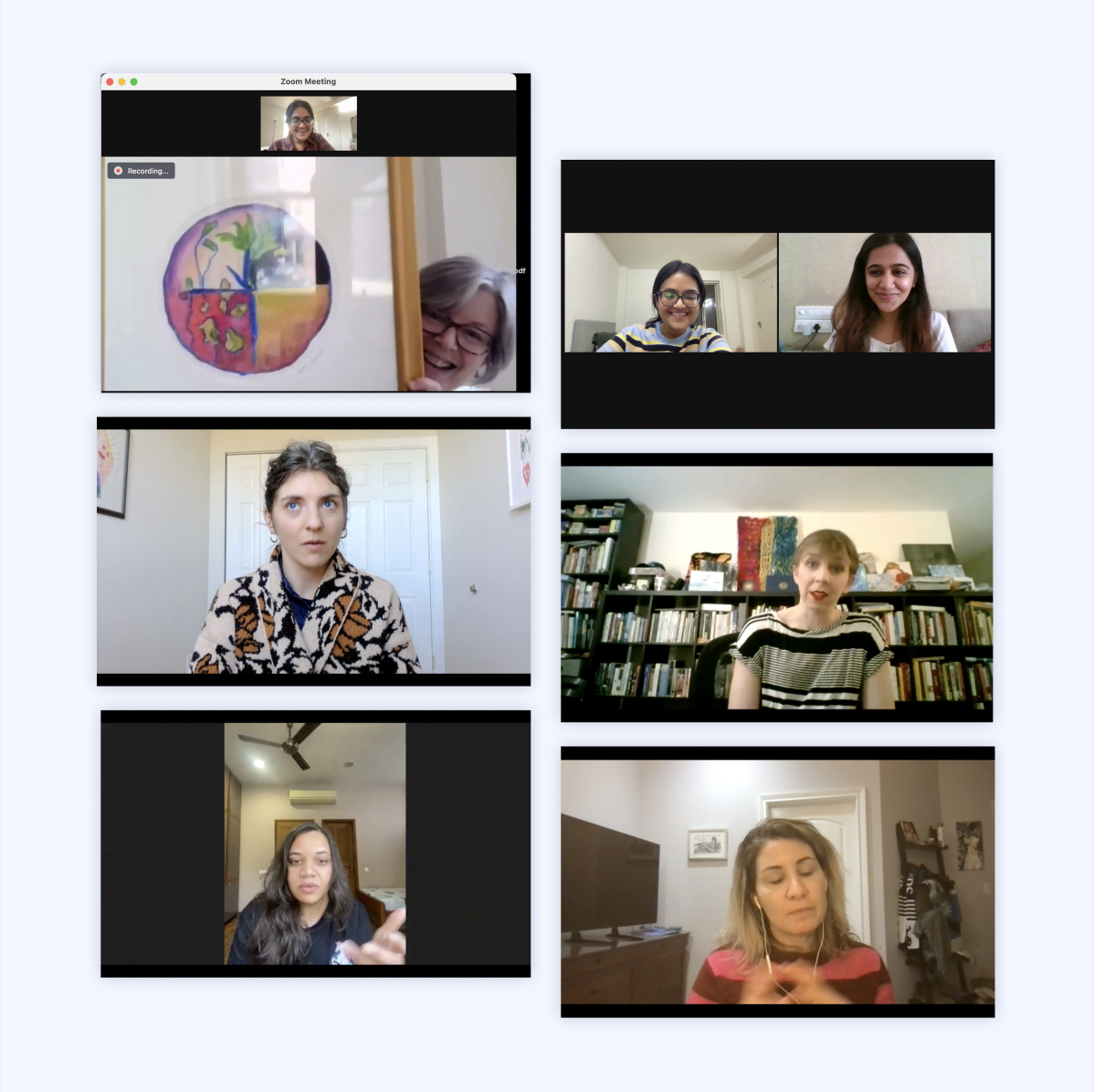 Interviews
For the next stage of research, we interviewed 3 aspiring Art Based Therapists and 4 Art Therapists to learn more about the art therapy practice.
Objective:
The objective of the interview was to understand the process, pain points and motivation of art therapists. Also to get a better understanding on their take on technology intervening with art therapy and their experience so far with online sessions.
Here are some of the key takeaways:
Digital and traditional Art Therapy need to co-exist

Therapists want an intuitive way of collaborating and connecting with clients online

Therapists want to view and be a part of their clients art making process in an online setting

Therapists want to channelise and simplify recording client data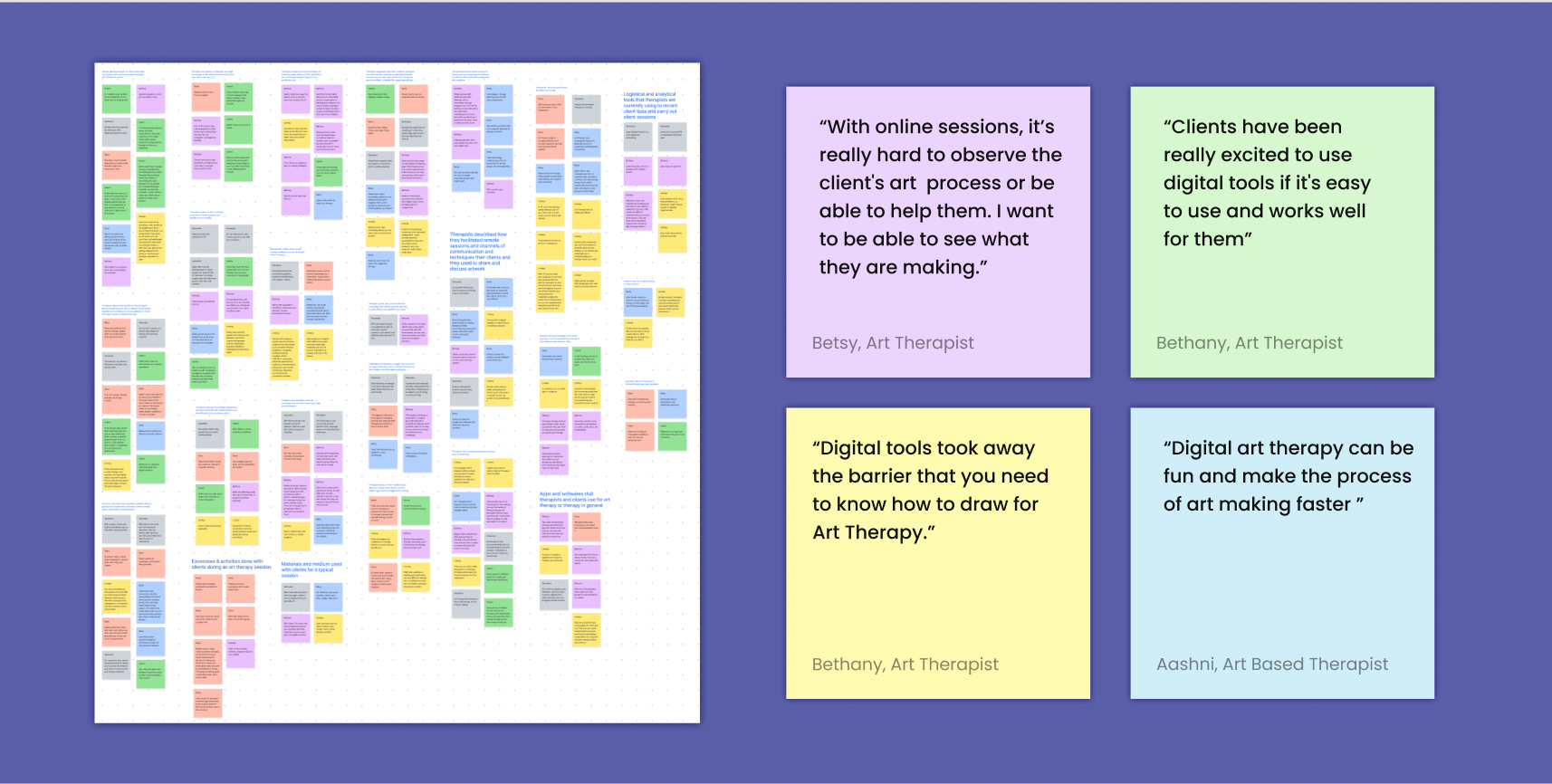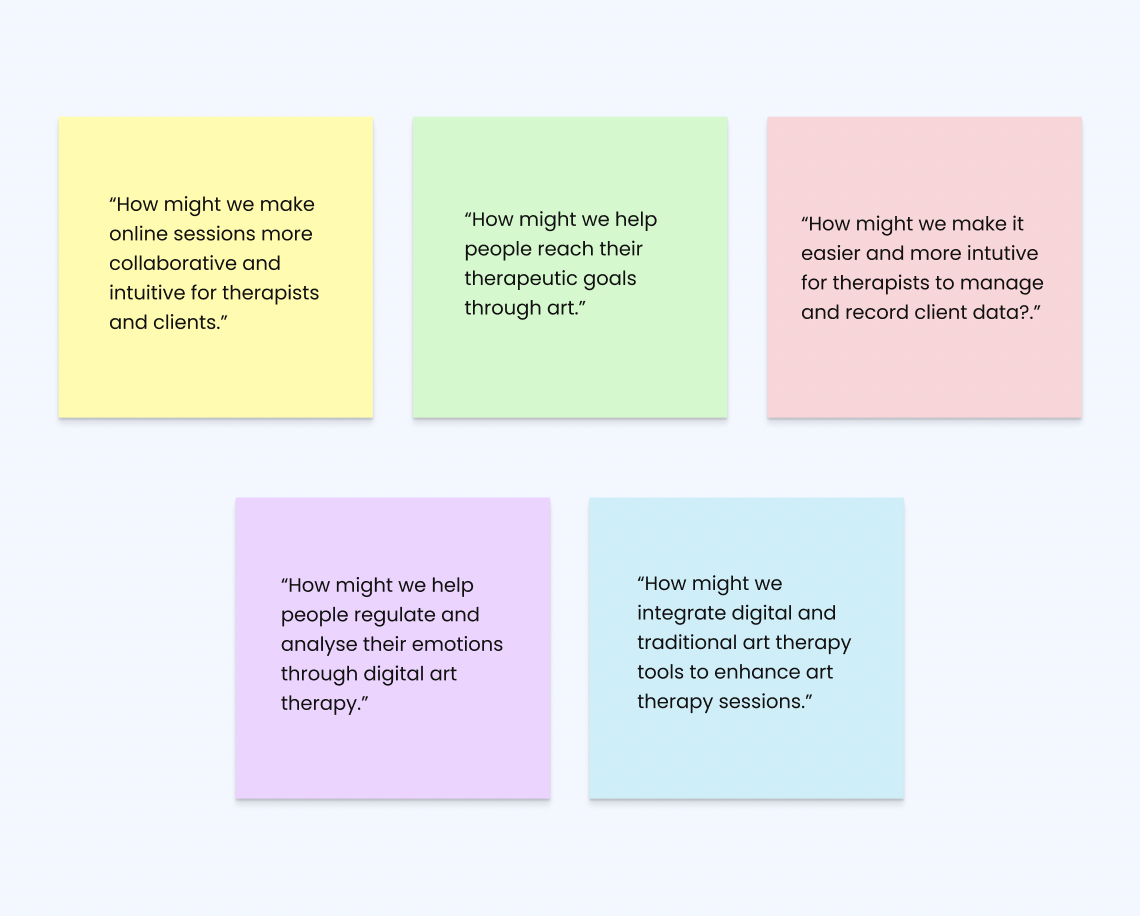 How Might We's
Based on the insights collected during the interviews, we formulated 5 How Might We's that guided us during the Prototyping phase.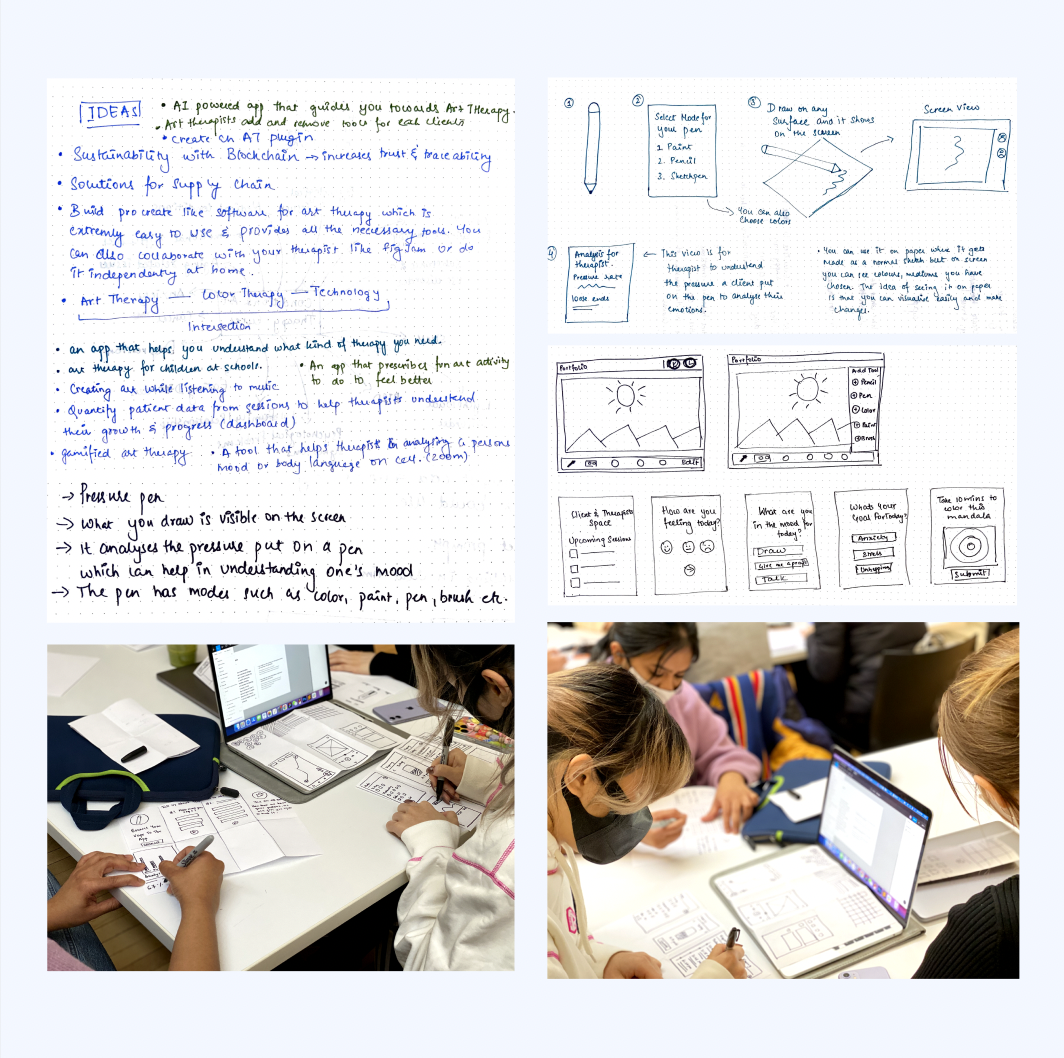 Low-Fidelity Prototype
After formulating the Home Might We's we brainstormed on ideas to create Low-Fi Prototypes. Overall we designed and tested 4 ideas that were based on different concepts and approaches.
Below is a brief description on each prototype:
A plugin to collaborate in real time where therapists and clients can facilitate sessions

A 100 day art challenge app that gives you insights on your mood based on your artwork

A digital pen that tracks your hand movement and projects the drawing on a screen

A mindful art therapy activity app that suggests you exercises based on your current mood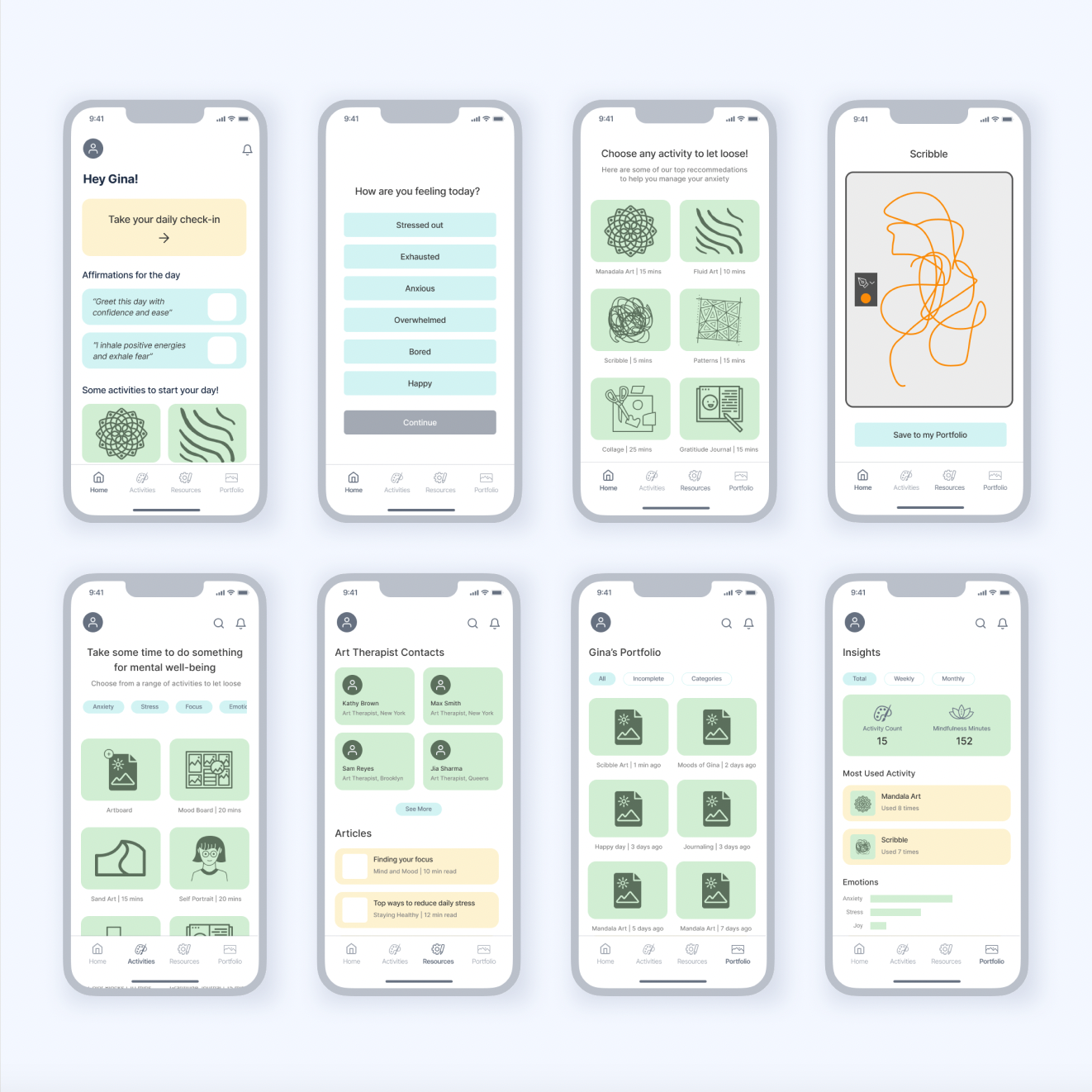 Mid-Fidelity Prototype 1
Hypothesis
We believe that recommending mindful art therapy activities based on daily mood will help people manage and regulate their overall well-being.
Considerations
The app suggests activites to start off the day with and also shows daily affirmations for positivity

Users can access Art Therapist contacts for consultation and links to articles on mental health

Users can preview weekly, monthly and overall insights of their emotional journey on the app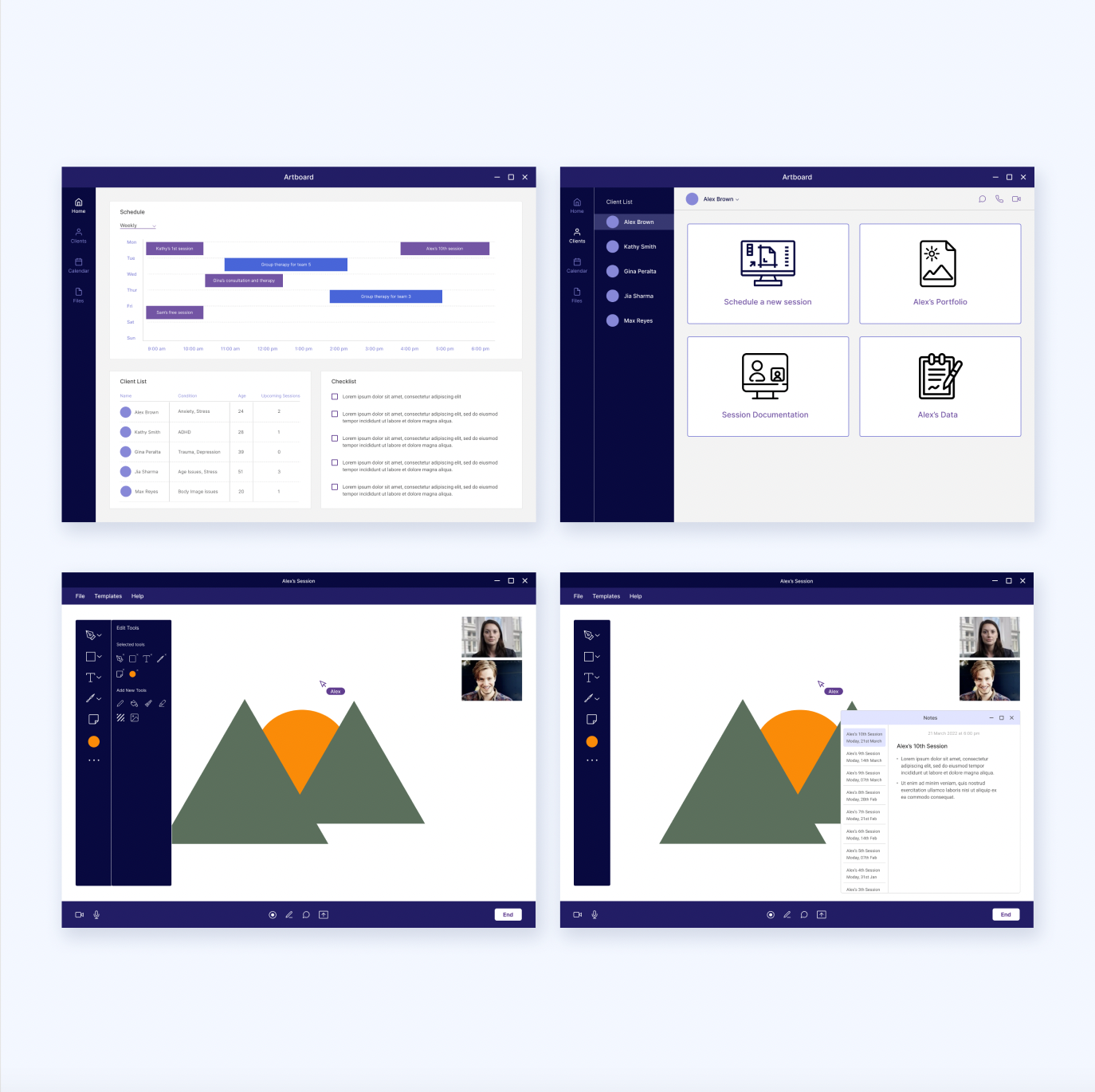 Mid-Fidelity Prototype 2
Hypothesis
We believe that centralising digital tools for scheduling, art making and client management will make digital art therapy more collaborative and effortless.
Considerations
The homepage should give an overview of the therapist's schedule, clients and let them manage their checklist

A collaborative art board can be used by clients and therapists with a wide range of drawing tools available for the session

Therapists have the flexibilty to add and remove tools so that clients don't get overwhelmed by too many options

In the client tab, therapists can see a seperate page for each client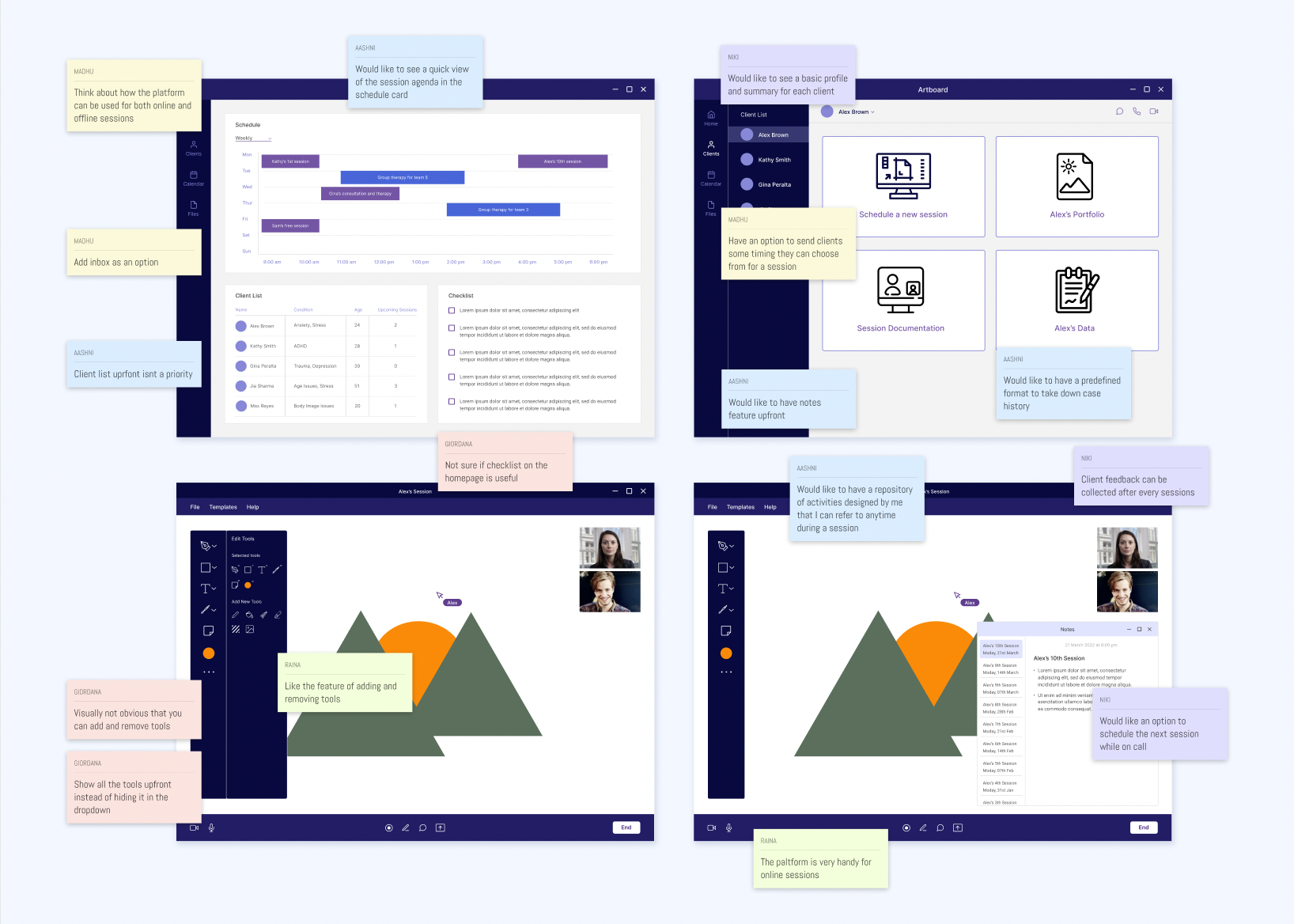 Usability Testing
We tested both the prototypes for feedback, although we decided to take Prototype 2 in the next phase as we wanted to solve the problem from an Art Therapists point of view.
Sample Size: 5
Interviewees: 2 Art Therapists, 2 Design Students, 1Psychology Student
Duration: 15-30 mins zoom meetings
Common Findings:
Users felt that the solution is really good to facilitate online sessions as it has everything needed in one place

Users felt that the homepage is not providing enough information and some of the current features are not required

Users found the the feature of editing the tool bar very thoughtful from a client perspective

Users suggested to add an inbox feature to access client messages easily

Scoping
To further refine and define the final solutions, we first created a prioritisation matrix to identify the must have features for our MVP. After that we designed 2 iterations of the site map to finalise the product flow. After we had all the features and flow in place, we revisited our mid-fi prototype to refine the UX before we moved on to creating the UI.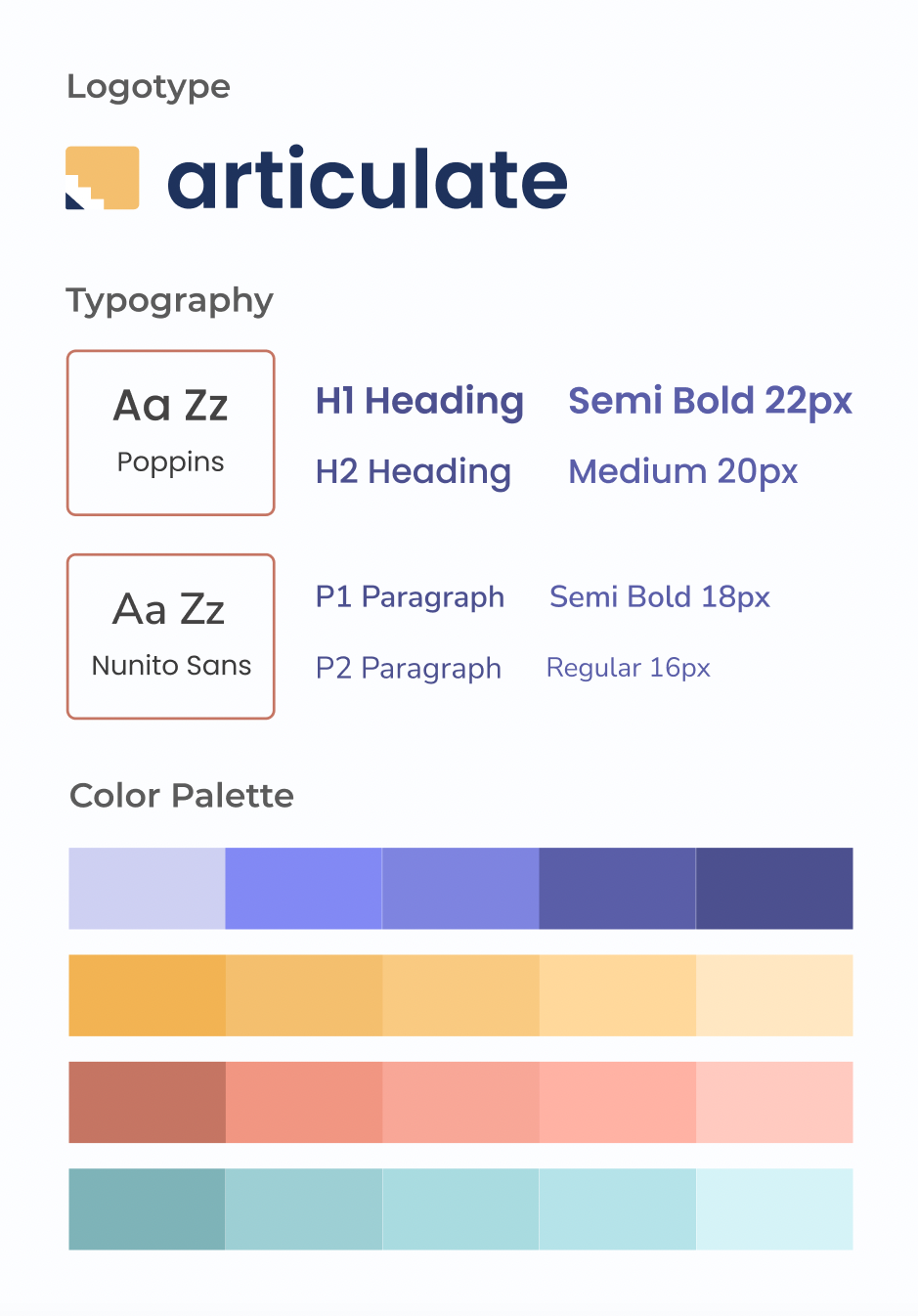 UI Design
Since the platform caters to mental health, we used a subtle yet professional color palette keeping in mind it's daily usage. Soft, rounded edges were used for components to make it look friendly and comforting. We did not make it graphic heavy as we wanted to avoid cognitive load for therapists and clients.
From the point of accessibility, we rans the colours through an accessibility test and used appropriate text colors against it. At the same time, we also ensured that we didn't go below 16pts for text.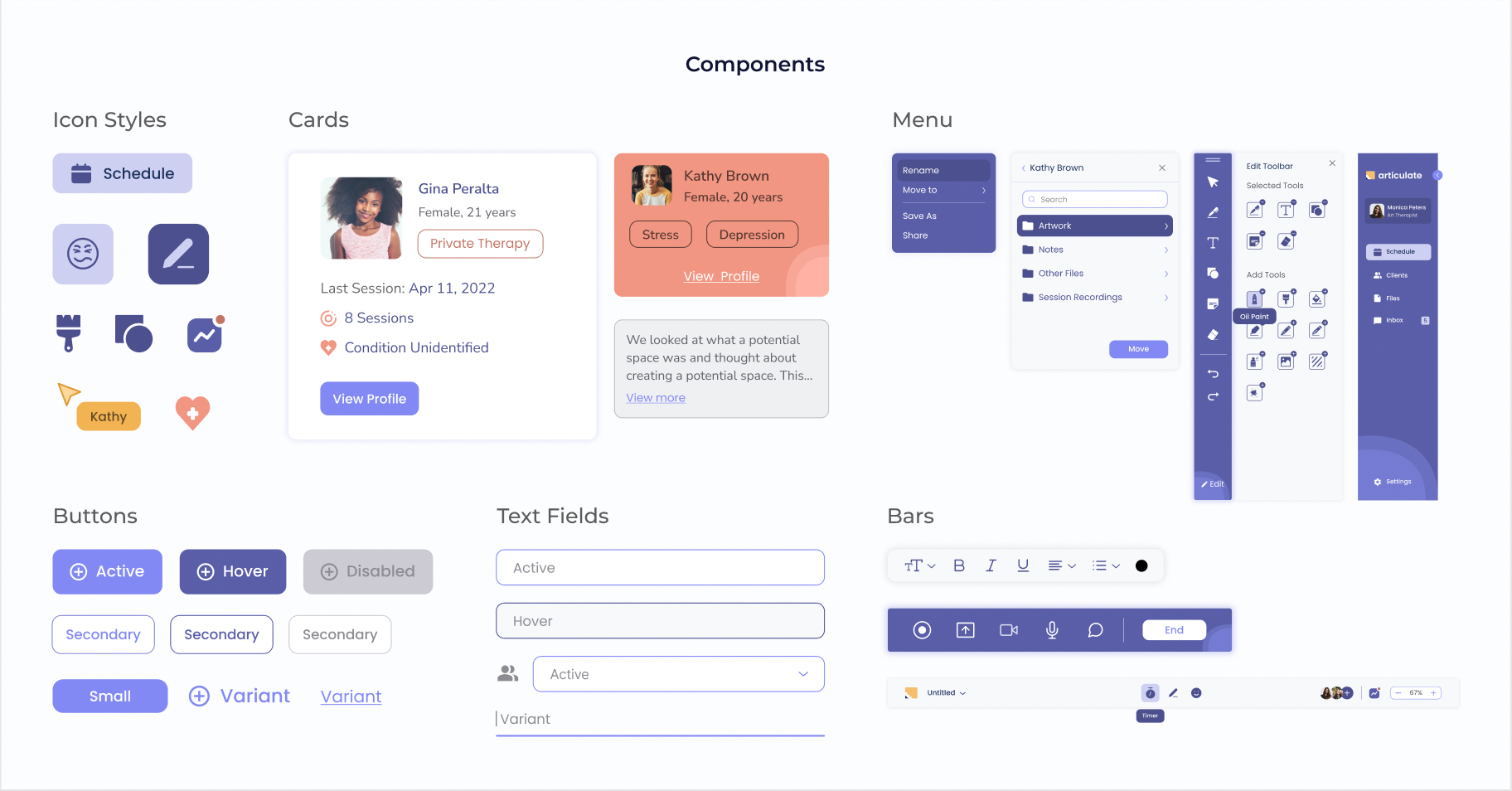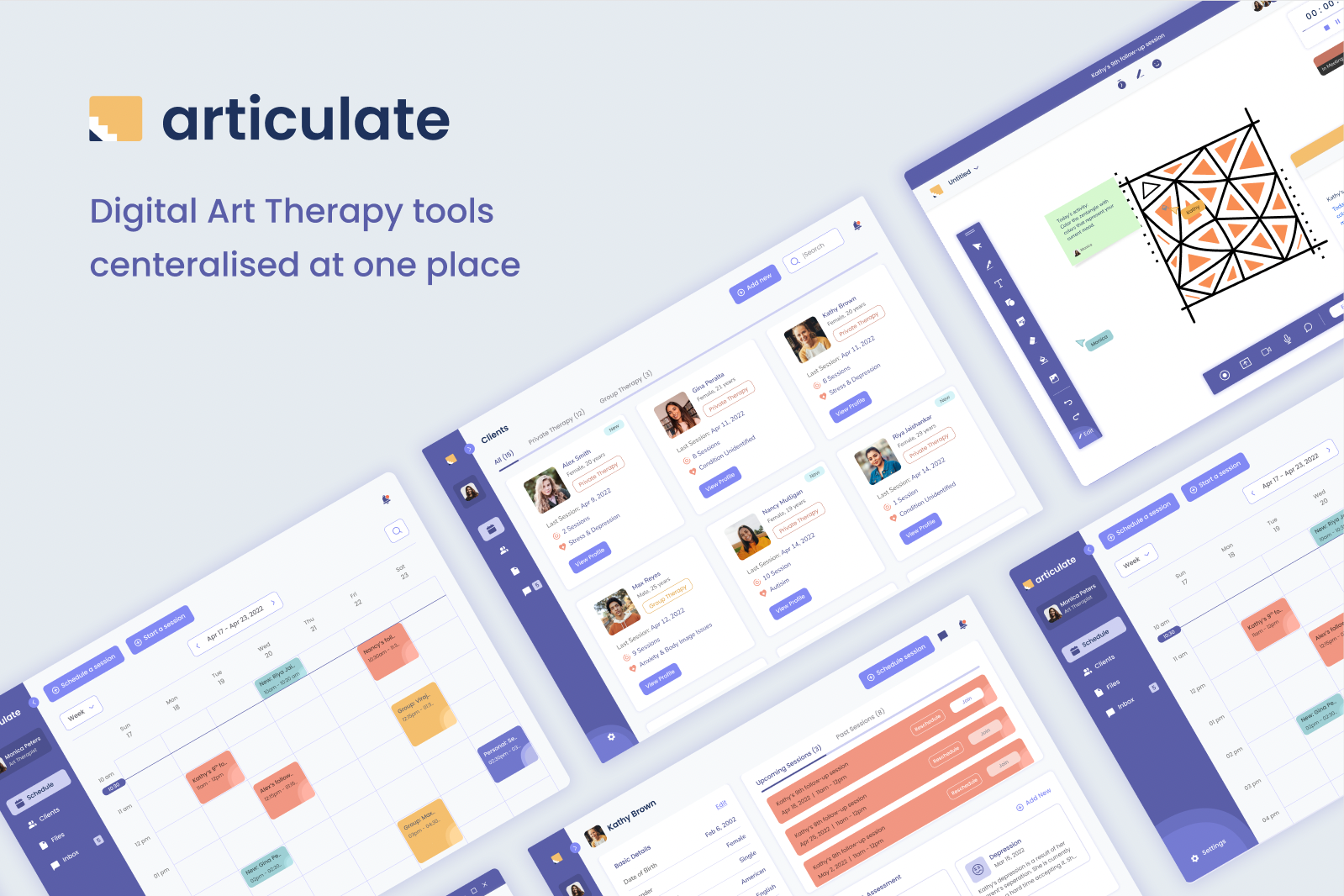 Feature 1
Viewing Schedule
Art Therapists can easily access their schedule and get a brief overiew on the appointment and the client scheduled for that session. The schedule page also gives easy access to schedule a start a session instantly.
Feature 2
Customise Toolbar
Art Therapists can customise the toolbar for their clients based on the session's agenda. This reduces the cognitive load on clients by narrowing down their options and not making them feel overwhelmed.
Feature 3
Logistical Tools
Art Therapists have various tools available to manage the online session.
Set timer for the session

Take notes during the session

Save client artwork in designated client folders
Feature 4
View Clients
Art Therapists can view and add clients for easy management. A customised dashboard for each client provides an overview on client data, diagnosis and assessments, session information and easy access to client files.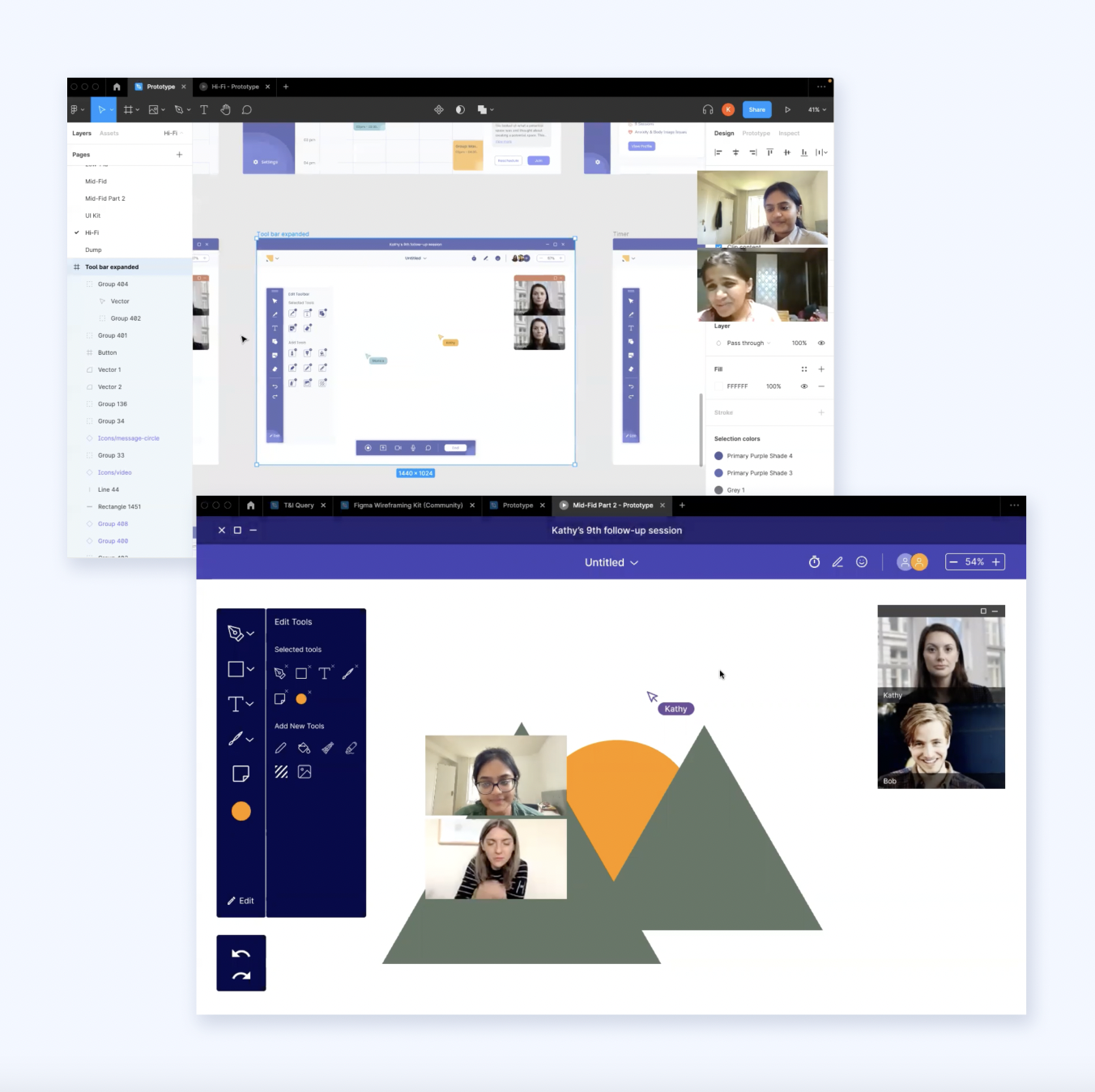 Usability Testing
We tested the Hi-Fi design on last time to validate and get feedback on the current feature set
Sample Size: 4
Interviewees: 2 Art Therapists & 2 Design Students
Duration: 15-30 mins zoom meetings
Common Findings:
Users loved the overall product and found it user-friendly for online art therapy sessions

Art therapists said that they would definietly use this product for their practice

Users especially found the customisable toolbar feature very thoughtful

Users want to see a more detailed view on client data and file management

Therapists assured that their clients would not find it difficult to use the digital tools
Conclusion
We believe that we created a promising digital solution for the Art Therapy practice that re-defines and simplifies online sessions. The product has all the tools required at one place which helps Art therapists and Clients facilitate sessions irrespective of location and material constraints. The product has been designed in such a way that it can be used beyond online sessions. Such as scheduling sessions, managing and recording client data.
Research interviews, constant user testing, and product scoping really helped us shape our final product and create just the right set of features required to role out a MVP.
As our next step, we will work on enhancing tools required to record and store client data. We also plan to work upon creating a repository of art templates that therapists can use during a session. Additionally, we would want to explore the client side too of the product.