TUTOR PRO
An online tutoring service that helps students in finding the right tutor
for their educational needs.
TUTOR PRO
Tutor Pro is an online tutoring service that specialises in finding fun and friendly tutors that help students learn. The service aims at making the experience of finding a course and booking a tutor seamless and informative.
Project Type: Individual
Role: Research, Concept, Wireframes, Visual Design, User Testing, Prototype
Duration: 6 weeks
Tools: Figma
The Process
The process for this project was defined according to the project scope, needs and challenges.


Problem
Tutor Pro is a re-design and re-branding for Tutor Orial. The original service has low completion rates as the process is very confusing. The business is struggling and many tutors want to leave because they are not seeing enough clients.
Solution
Re-branding and re-designing Tutor Orial features and experience to make the process of finding a course and booking a tutor seamless and informative.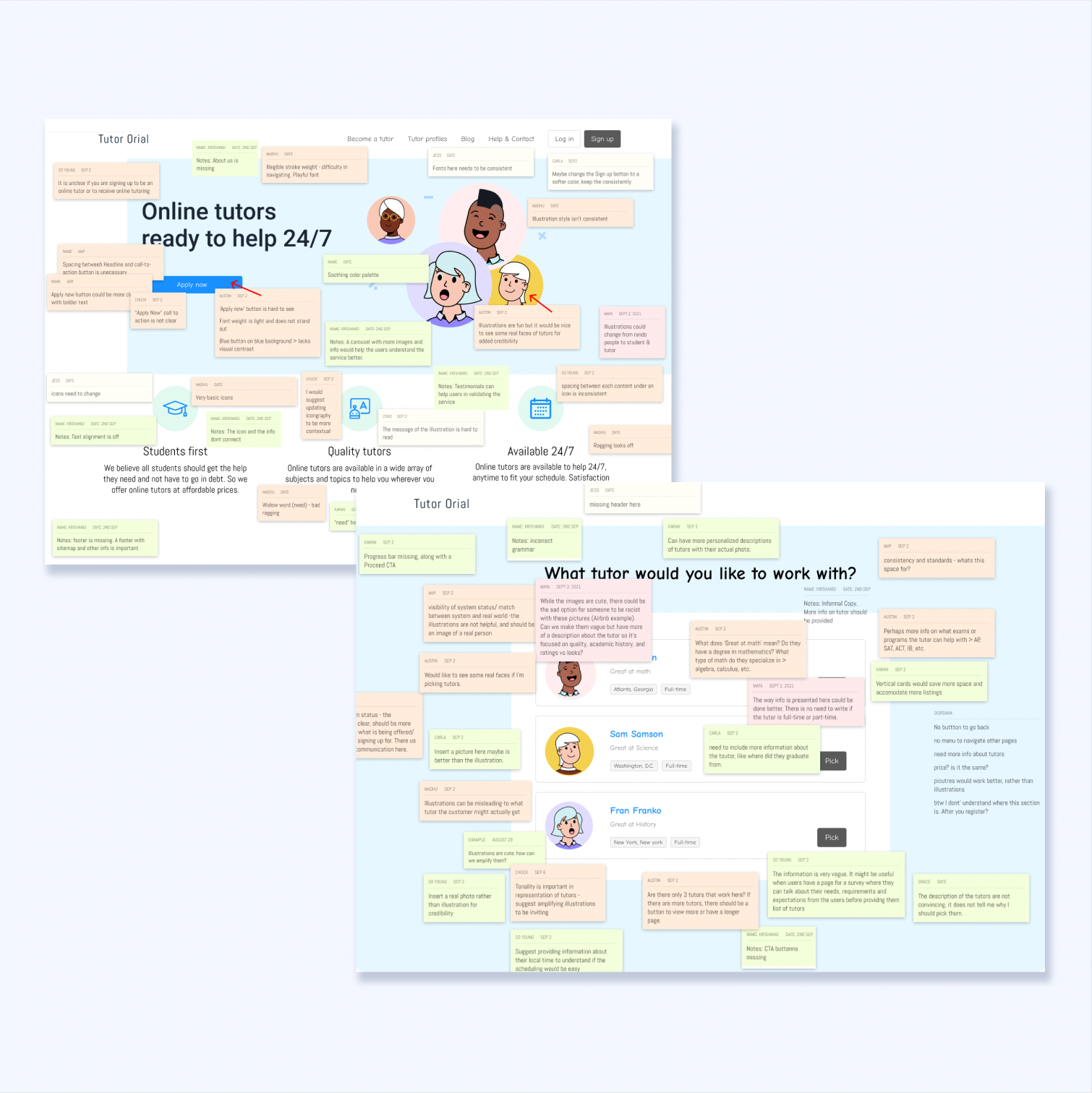 Discovery
We carried out a heuristic evalution of the older website to identify the main concerns and define our goals for the project.
Main Concerns
The entire flow from sign up to booking a tutor is confusing and unclear

Not enough information and options have been provided to a user which creates a dull user experience

The copy and design style are informal which does not catch a user's attention

The sign up page has a very lengthy form
Goals
Create a simple and clear flow which tells the user what exactly the next step is

Complete transparency and clarity on what the service is offering

Create a simple and direct sign up process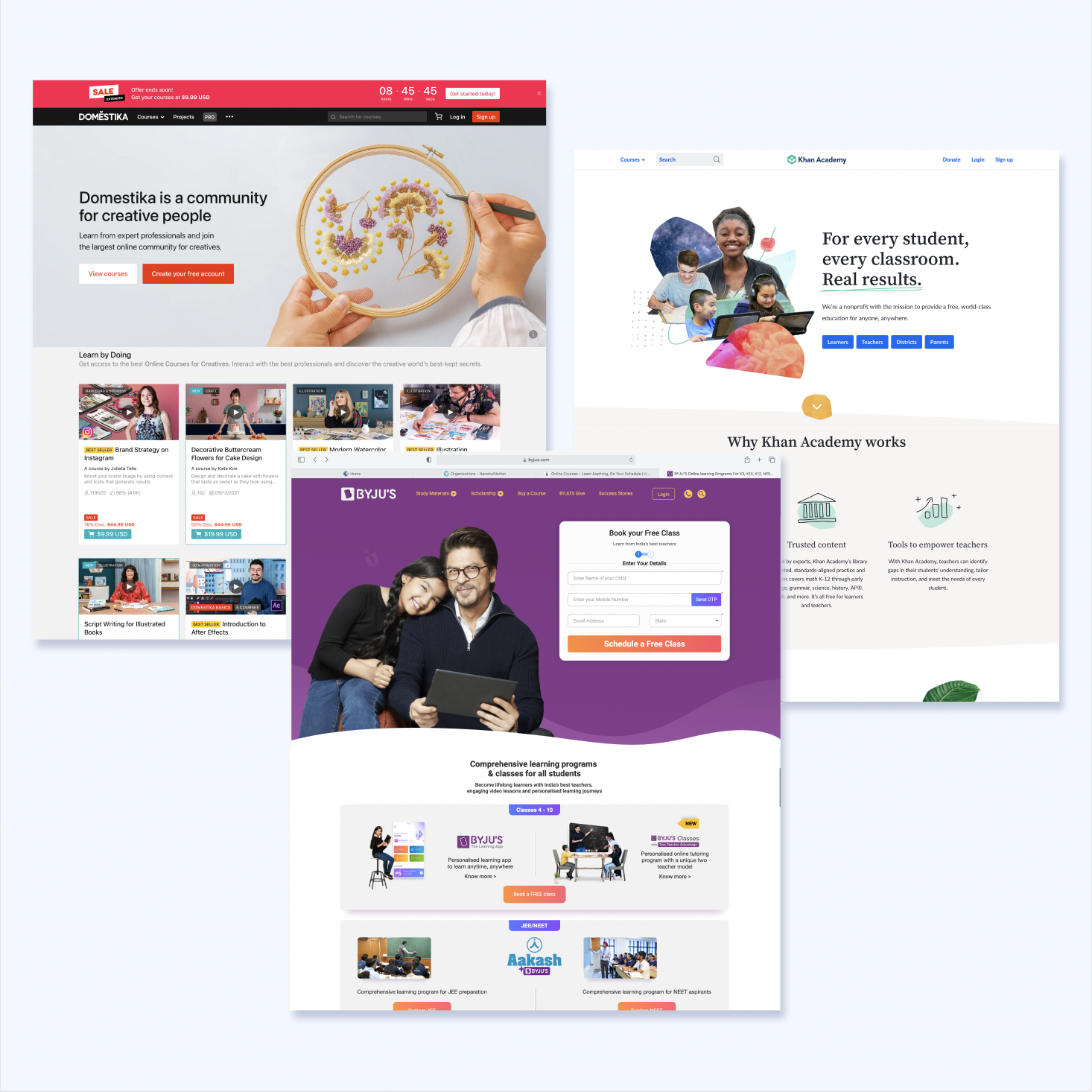 Competitive Analysis
We carried out industry research to understand what other competitors in the space are doing, and what can we learn from it.
Here are some of our key observations:
Similar services provide direct and comprehensive details of the course and the tutor

User have multiple payment and course plans to choose from

The sign up process is simple and direct

The design language is minimal and clean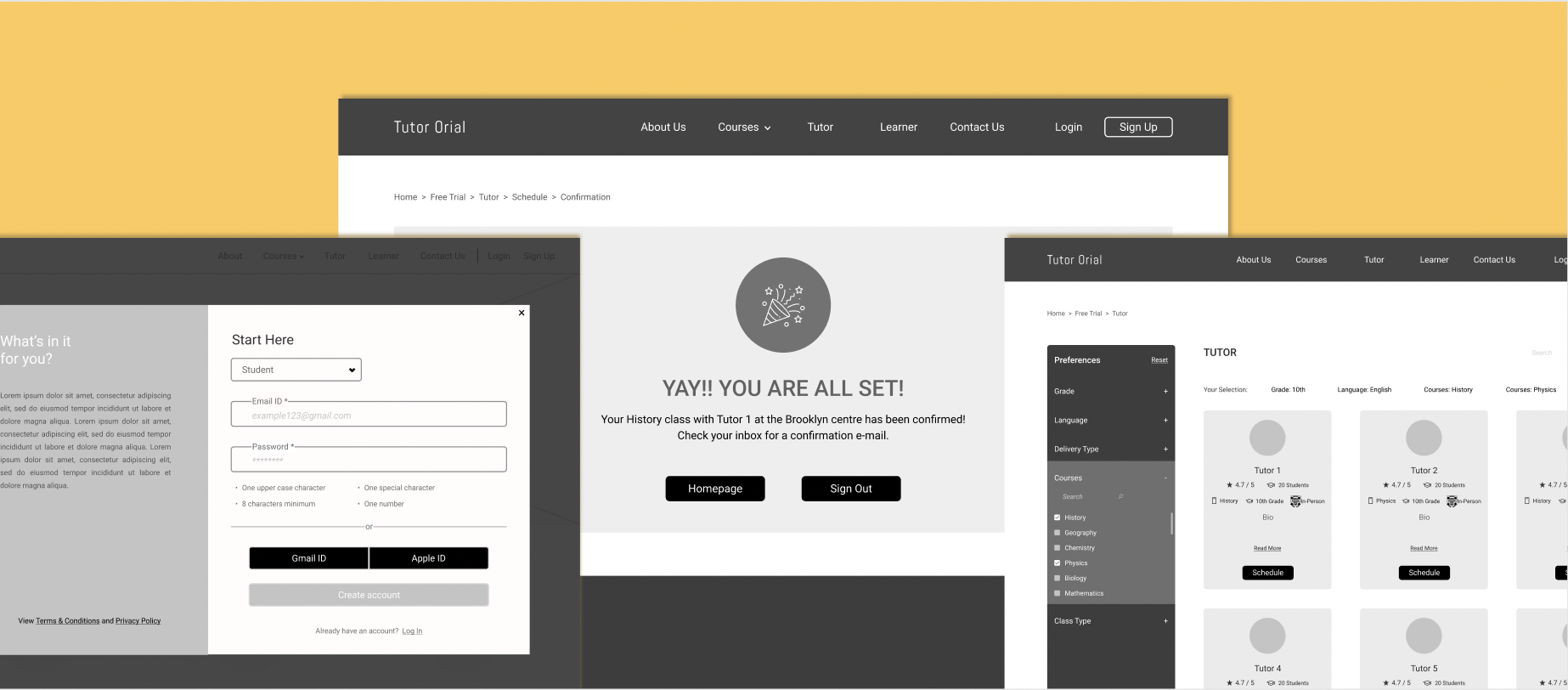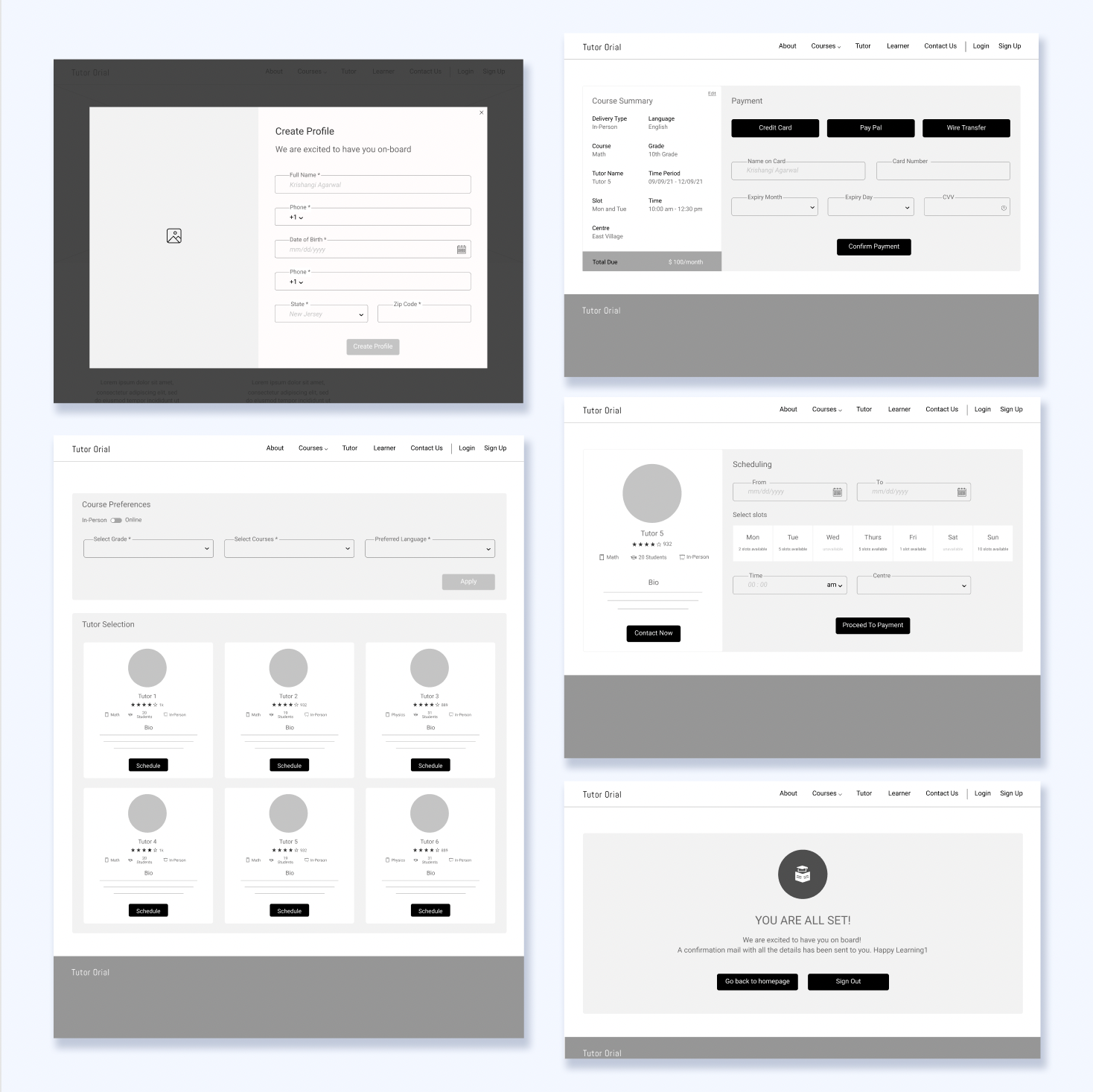 Mid-Fidelity Prototype 1
Hypothesis
We believe that course preferences and tutor selection on the same page will make it more intuitive and easier for a user to choose the right tutor.
Considerations
A convienent process of selecting tutor and course with all the necesssary fields being present on one screen

Relevant information on tutor is available which can help users in making a decision

Simple sign up process which doesnt require a lot of information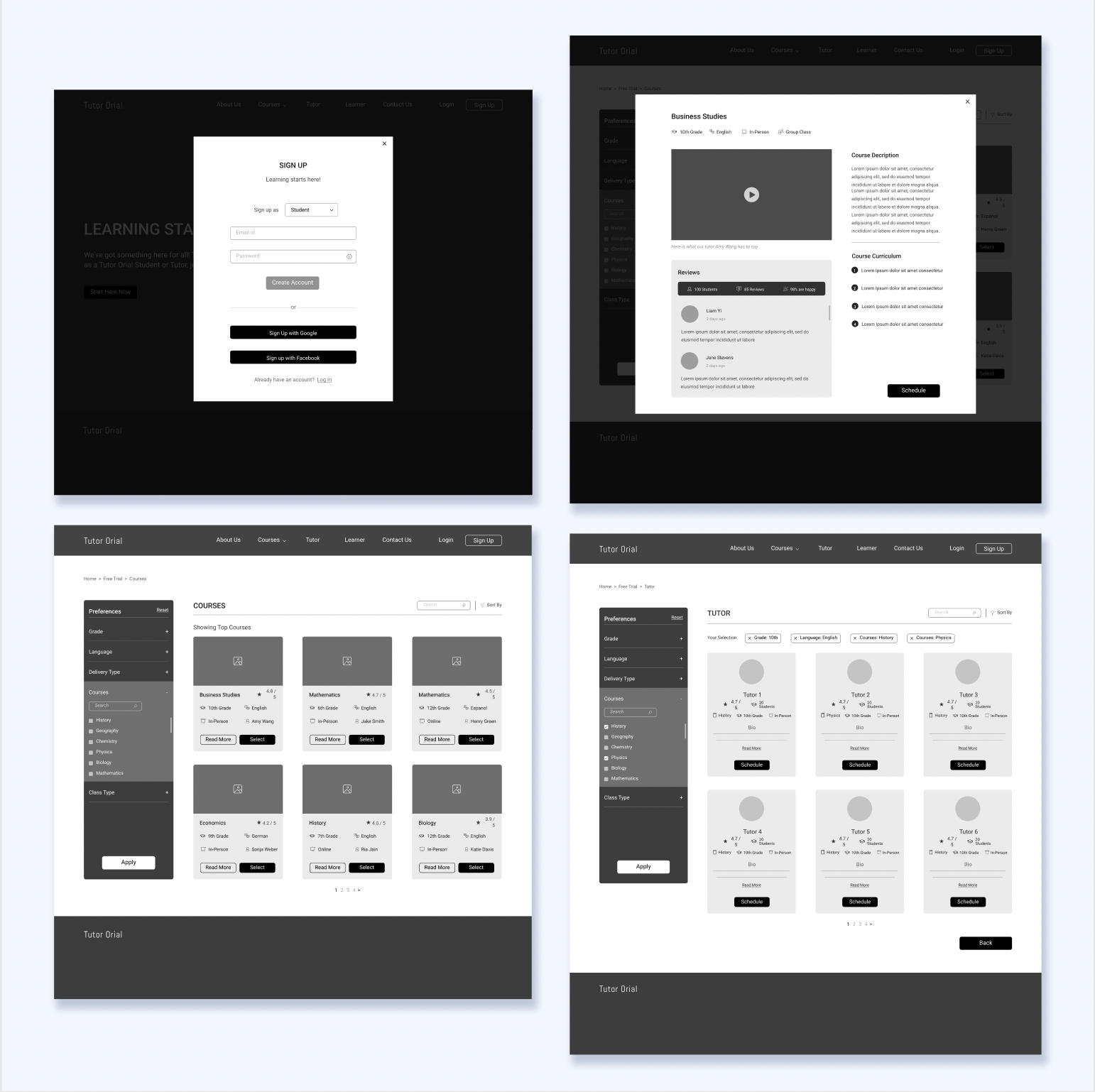 Mid-Fidelity Prototype 2
Hypothesis
We believe that a free trial option will incentivise the user to sign up for the service as they will get to experience the service before they pay for it. Also, detailed information on the course and tutor will give users the confidence to take the service.
Considerations
Option to choose from different payment packages

Detailed information about the course offerings and the tutor background

Intutive preferences side bar to help a user customise their selection to the max
Usability Testing
We tested prototype 2 with potential users
Sample Size: 4
Interviewees: High school and graduate students
Duration: 15-30 mins zoom meetings
Common Findings:
On the page to book slots with the tutor, it was unclear on how many slots can be booked

Asking for payment details right after signing up, might discourage a user from signing up

Preferences on both, the tutor and course page is redundant

A dashboard to manage classes is missing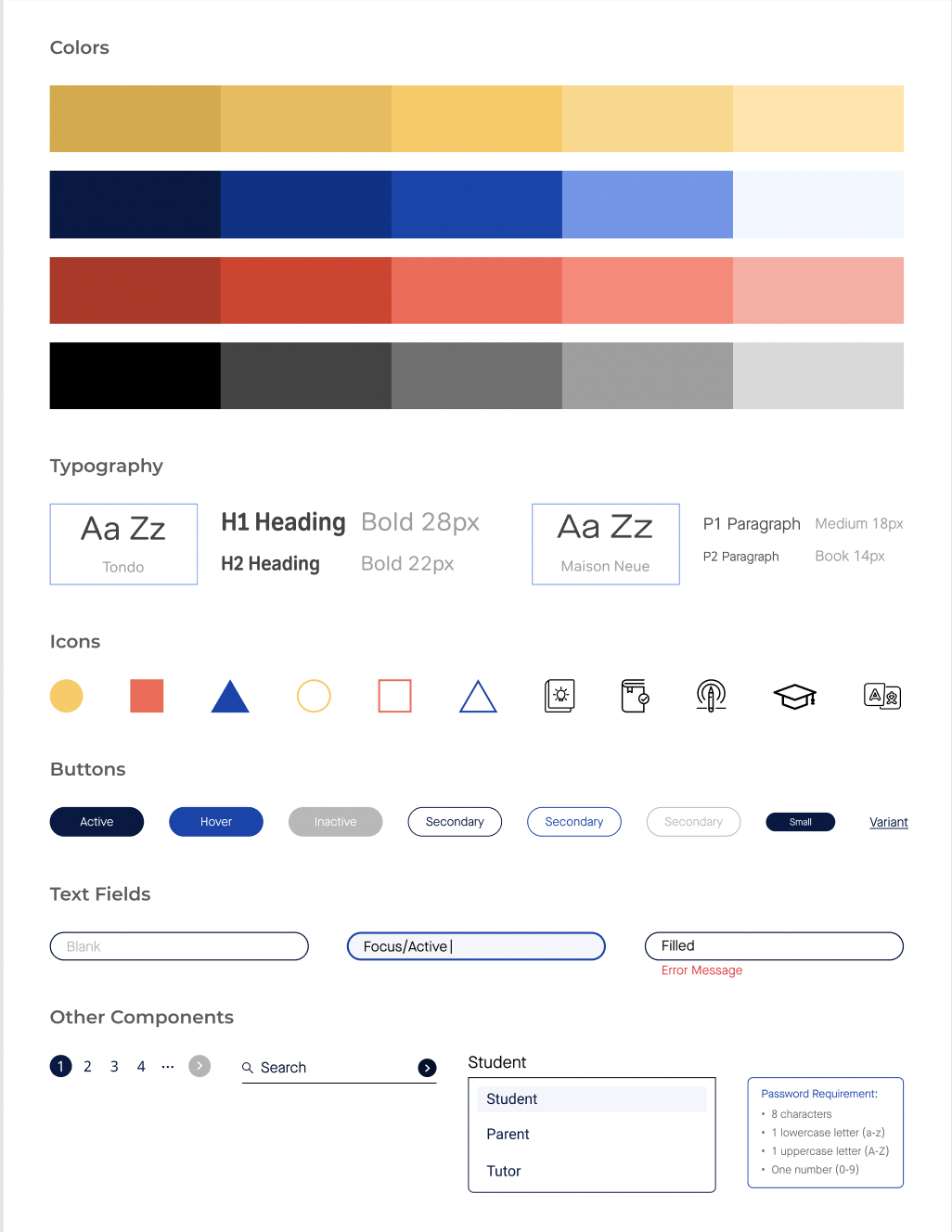 Visual Design
We used bright colours and fun shapes to make the service look fun, friendly and welcoming. A lot of students and their parents would be using the website so we wanted the website to have a guiding and helping interface, to keep things light and simple.
Tutor Pro
A vibrant yet sophisticated design that aims at making the experience of finding a course and booking a tutor seamless and informative.
All the features have been designed to encourage a user to take the free trial and later permanently switch to Tutor Pro.
Conclusion
We re-designed and renamed the Tutor Orial website and made it more easy to follow, giving users all the information they need to start their journey at Tutor Pro. This will help in mainting loyalty towards the service and will ensure that the tutors never fall short of students.

We belive that we managed to create a user friendly and vibrant website. Usability testing and annotating were the turning point for our design as it helped us in modifying and refining the flow further.